COMPAGNIE DOMINIQUE HOUDART, JEANNE HEUCLIN
A THEATRE OF FIGURES
The company was created in 1964 and quickly got specialised into using "the object as a sign", the animated form ~ which becomes an extended part of the actor, the sublime, essential ~, subject of theatricality serving the text, intrument of the theatrical celebration. Then the Company took hold of all kind of different manipulation techniques, following the needs of each show: in sight manipulation, ~ black theatre, shadows. Most of these techniques were inspired L from extreme-orient theatre, japanese Bunraku, chinese puppets... and the Company always wanted to stress Jeanne Heuclin's vocal ~ work as the narrator too. The Company prefers to call their work "theatre of figures" (from the latin Figura: representation) rather than "puppets".
The part of set designers - object creators is an essential one in the Company, as it allows to lead researches on manipulating, but also on the meaning of materials and forms. After ~ Marcel Violette, Yann and Marianne Liébard, Alain Roussel is now L bringing his experience as a sculptor, as an automat maker, as an ancient puppet restorer and as an opera set designer too.
The Company's work is articulated around four main axises: classical repertory, theatre and history, young authors and musical theatre.
Her vocation is international too: the Company has presented her shows in South America, in Africa, in Japan, in Korea, Singapore,L Australia, in Bangkok, in the West Indies, in Guiana, in Tahiti and in numerous european countries.
Working with contemporanean authors is an essential and L prioritary mission for a theatrical team. Since twelve years, the, Company has been keeping a research on the relation between the text and the animated form, the text and the space, the text and the voice, together with Gérard Lepinois. From this close collaboration were born The grain of salt and the grain of sand, The night and its, pins, Little physics of the four elements and The Second Night.~ Gérard Lepinois was subsidized by the French Ministry of Culturet for his work with the Company. This research is being led togethert with musicians and plastic art designers.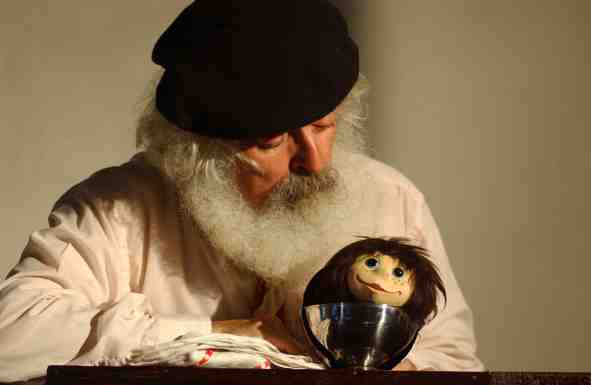 "Here are some people who make very well a theatre that doesn't look like any other" GILLES COSTAZ in POLITIS
"Company Dominique Houdart -Jeanne Heuclin wanted to create a whole fantasmagory, a different world where imaginary objects and brand new talkings would participate to the same enchantment." MICHEL COURNOT in LE MONDE
Company Dominique Houdart - Jeanne Heuclin gave birth to three "enigmatic beings, their enormous heads dandling upon their heavy and deformed bodies. They are all dressed up in black and can not speak. Their silences, their looks may sometimes impress. But we shouldn't rely on the appearance: their gesture is so touching, so eloquent, that we quickly get to admire them. Ugly, big and awkward, they do not ressemble anybody, but they are, almost, like anybody. They like walking down the street, smartening themselves at the hairdresser's, reading at the library, buying some flowers. They go out shopping at the supermarket and even go to school! They invest the streets of the city to meet their fellow-creatures, like they'd wanted to recall that theatre is a connivance before all, that it belongs to everybody, that it can exist outside, in everykind of places, and be continued on the inside.." MARTINE LAVAL in TELERAMA
PADOX IN THE CITY STREET INTERVENTION
WHO IS PADOX
Padox is you, me, Punch, Tintin, Bidochon and Gaston*. He has been invented and written down by Gérard Lepinois, created by Alain Roussel, Jeanne Heuclin gives him cries and whispers: Padox, unique character of a black theatre performance, is a puppet which represents men, today's human being.
With Padox we have been performing "The second night, a show we've been touring through the whole world, from Avignon to Chile, from Poland to Norway, from Brasil to Spain, and everywhere the audience recognised itself in this little man oppressed by the objects, who fights, potters, invents, plays with objects and takes the world into a game. Then, we created The third night, then Padox au parfum in 1997, Padox Café Concert in 1998, and "Variations Padox" in 2000
(*: all cartoons characters)
PADOX OUT IN THE STREET
We didn't want to limit the life of this surprising character to the only black theatre: we then askod Gérard Lepinois to imagine how Padox could get out of the theatre night, and perform under the sun, in the street. He will be of a human size, and, as he is to perform among the crowd, he will be a crowd himself: there will be three Padox, all the very same, realised by Alain Roussel. They will inhabit the street, divert it, displace it, provoking a different attention. It is PADOX IN THE CITY.
Theatre sometimes needs to get out of theatres, to invent othe places, different spaces, to meet the audience. Our eight years experience with the Festival Colportages in Epinal gave us anothe evidence that theatre needs to get out in the street if we want the strcet to come to the theatre.
But we can not perform in the street as you do inside a theatre room. The writing, the space, the rythm, the light, the sound, everything is different. At the theatre, we watch Padox. Outside, we watch Padox watching the street.
TECHNICAL RIDER The show is made of 30 mn interventions, maximum 4 interventions in one day.
The show can happen in the street, in commercial centers, in the city buses, stations, markets, and any public place.
A preparation trip is necessary.
The organizer must provide:
A closed place close to the performing area to be used as dressing room, with toilets, chairs, mirrors, propoer light, water and if possible showers. If the Padox are to stay for a long time, they must be settled in an appartment or a shop, so that they can be seen by the population.
FOUR SEASONS OF PADOX INDOOR
Music of VIVALDI
On the stage, 25, Jeanne Heuclin gives them her voice.
Choregraphy, sketches, very easy to undesstand for an international audience: no speaks in french Technic
Stage 10X10 meters

Sonorisation (micro and CD)
Lignts 40 Kw
PRICE: Fee: 12.000 FF net / day for street PADOX IN THE CITY
AND for FOUR SEASONS'SPADOX
Degressif price for 3 performances
Meuls and lodging: for 6 people Transportation costs: 10 FF/km from Paris by ground. Estimation for each case for air transportation.
Plus: authorts rights (SACD)



---
Renseignements :
Nouvelle adresse

Cie Dominique Houdart-Jeanne Heuclin
12 RUE VAUVENARGUES
75018 PARIS
Tel 01 42 81 09 28
GSM 06 11 87 62 77
Siret: 353 180 813 00035
APE 923 A
Licence cat 3 n 15816
La Compagnie est conventionnée par le Ministère de la Culture, DRAC Ile de France.
Tous droits réservés. Copyright 2003-2004 Compagnie-houdart-heuclin.fr
Ce site est prévu pour Mozilla et IE 5.x en 1024x768.